underpinning - basement lowering
Underpinning the foundation walls is a method to lower the basement floor to give greater headroom. Using this method, a sequence of holes are dug out from under the footings of your home under the direction of an engineer. (A footing is the concrete or brick pad which spreads the load of the foundation walls onto the soil.)  A series of 3' to 4′ wide sections are excavated under the existing footings, separated by 6' to 8′ of undisturbed soil. Once the section is excavated and formed a concrete pin is poured under the existing footing to the new depth required. After the pin has cured the top 2″ of the concrete pin is packed with non-shrink grout. Once the first series of underpinning segments are complete, then the adjacent 3' to 4′ wide segments are dug out, and the underpinning process continues. Once all of the pins are poured to the lower level the balance of the soil in the basement can be removed to the new lower level.
Once the new pinned foundation has been completed it is typical that new PVC drains are installed. In- floor heating can be installed at this point if desired.
A new concrete slab is poured with the new 8' clear ceiling heights. The basement is now ready to be renovated.
We can provide complete engineering, architecture and permits services or we can work with professionals of your choice.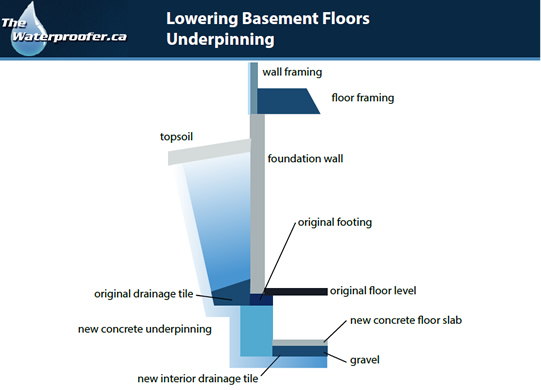 interested in learning more?
health concerns

Excess moisture can cause mold, fungus or mildew to grow
Certain molds can be harmful to your health
Not all molds are dangerous
Mold need four components to grow; oxygen, mold spores, organic material and water

blog